INFINITI INTOUCH™

INFINITI INTOUCH™
Stay InTouch, no matter where you are
When you purchase or lease a new INFINITI from Lauderdale INFINITI in Fort Lauderdale, FL – serving Pembroke Pines, Hollywood, and Hialeah, it comes with the INFINITI InTouch™ option. INFINITI InTouch™ integrates navigation, convenience, security and entertainment into a dash-mounted state-of-the-art system. It helps protect you and keeps you in touch while behind the wheel of your INFINITI. Want to stream your favorite music wirelessly, remotely start your car with your smartphone or unlock your doors using just your voice with Amazon Alexa or your Google Assistant1? INFINITI InTouch™ allows you to do this and so much more.2
Always in Control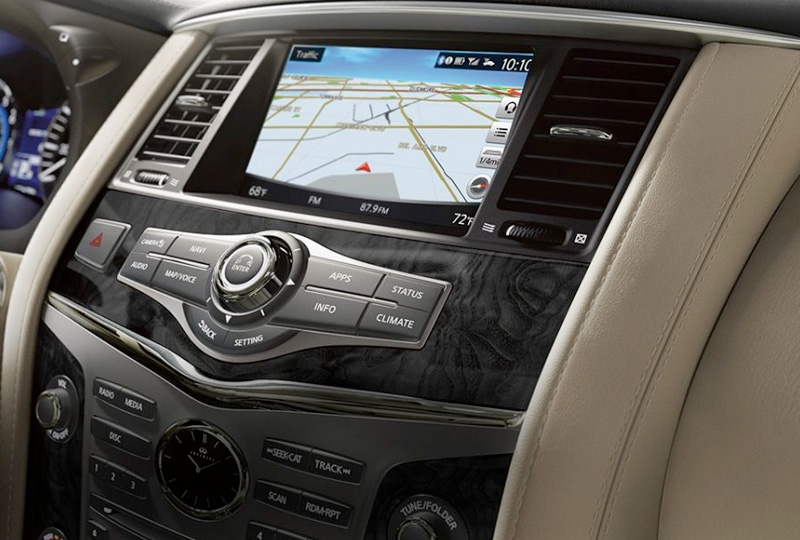 By Touch
Access your in-vehicle apps, music, phone contacts, maps and more from a convenient color touchscreen, available with gesture controls like swipe, tap and pinch.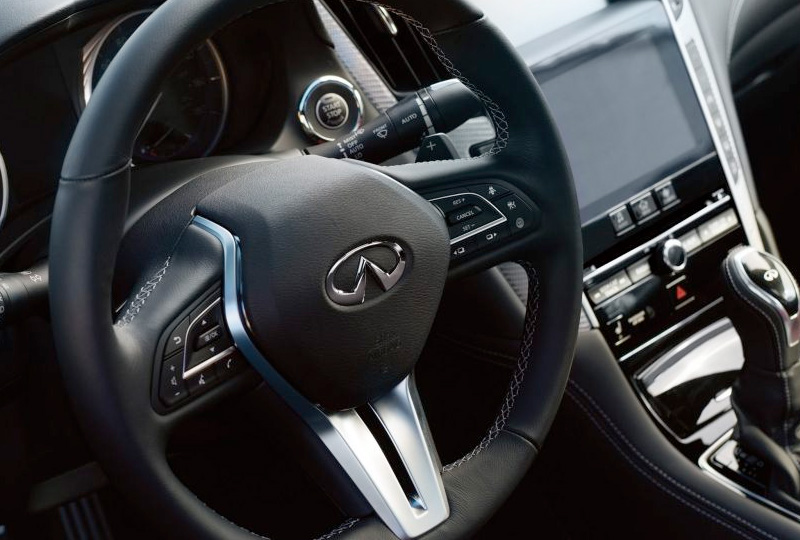 By Voice
Press the talk button on your steering wheel to activate voice recognition and control your entire INFINITI InTouch™ system using simple voice commands.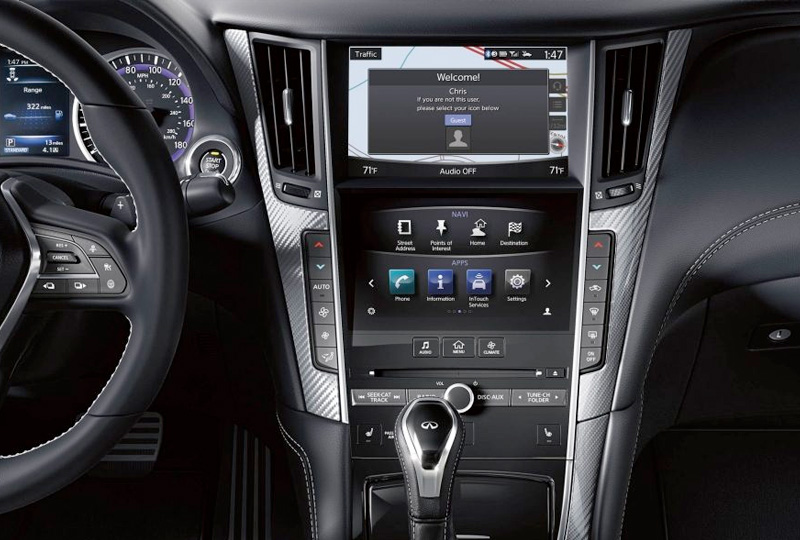 Personalize Your Services
Meet the Many Faces of INFINITI InTouch
Depending on your chosen vehicle, a variety of packages are available so that you can choose the services that are right for you. If simplicity is what's most important, you might prefer a package that focuses on navigation only. If you are the type who wants it all, choose a package that also includes safety and convenience services. Here's a breakdown of our product suites:
INFINITI INTOUCH™
with Navigation and INFINITI InTouch Services
Includes Navigation, InTouch Apps, Safety and Convenience Features, INFINITI InTouch Services wih Amazon Alexa, Bluetooth®, Hands-free Text Messaging Assistant, Voice Recognition, SiriusXM® Satellite Radio3, Traffic and Travel Link
INFINITI INTOUCH™
Includes INFINITI InTouch Apps, Online Search with Google™, Facebook®, SiriusXM® Satellite Radio, Bluetooth®, Hands-free Text Messaging Assistant, and Voice Recognition
INFINITI NAVIGATION
with INFINITI Connection
Includes Navigation, INFINITI Connection with Amazon Alexa, Safety and Convenience Features, Bluetooth®, Voice Recognition, SiriusXM® Satellite Radio, NavTraffic and NavWeather.
INFINITI NAVIGATION
Includes Navigation, SiriusXM® Satellite Radio, SiriusXM® NavTraffic and NavWeather, Bluetooth, Voice Recognition and USB port for iPod® and Compatible Devices.
INFINITI InTouch™ Features
Amplify Your Ride.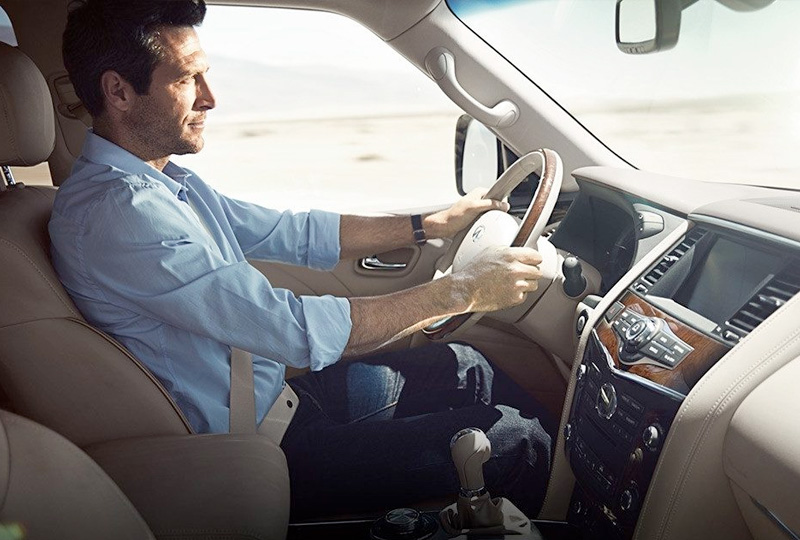 Navigation
In a navigation-equipped INFINITI, a GPS system is built right into your dashboard and can help you find addresses and points of interest. Stay focused on the road ahead as the system guides you to your destination with visual and voice commands. Enhance your entire journey with convenient features that help you move through traffic with ease.
Entertainment & Communications
With just a few quick voice commands or swipe of your touchscreen, you can make a hands-free call to your office, get access to hundreds of music and news channels, get detailed weather information, and more. Important Details regarding Access to INFINITI Connection
Convenience & Concierge
If you forget to lock your vehicle, or need to access it when you don't have your keys handy, simply log in to the smartphone app for quick and easy access to your vehicle. You can also make the most of your drive time by syncing your Google Calendar™ to your INFINITI InTouch™ system for easy access to your schedule. Important Details regarding Access to INFINITI Connection
Safety & Security
Whether you need a reminder, roadside assistance or help in an emergency, the personal security features are there to help take care of you and your passengers. In the case of a collision event and/or if the airbags have deployed INFINITI's Automatic Collision Notification will connect you to an agent who can dispatch response services, if needed. Important Details regarding Access to INFINITI Connection
INFINITI INTOUCH
™

Bluetooth

®

Connect your device to your INFINITI vehicle and enjoy the many benefits of Bluetooth.
Make and receive wireless calls and talk hands-free.
Eliminate cord clutter and stream your music wirelessly.
Connect seamlessly when you start your vehicle.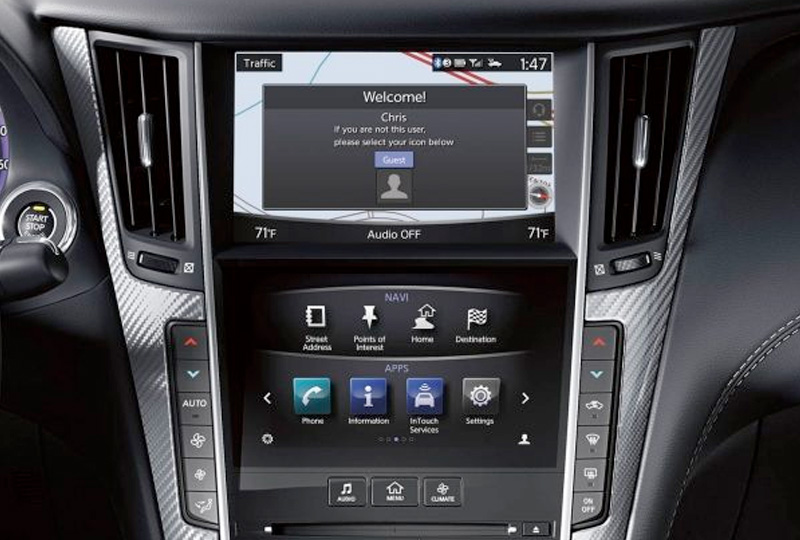 Connect to Bluetooth
Easily connect Bluetooth devices using these quick setup instructions.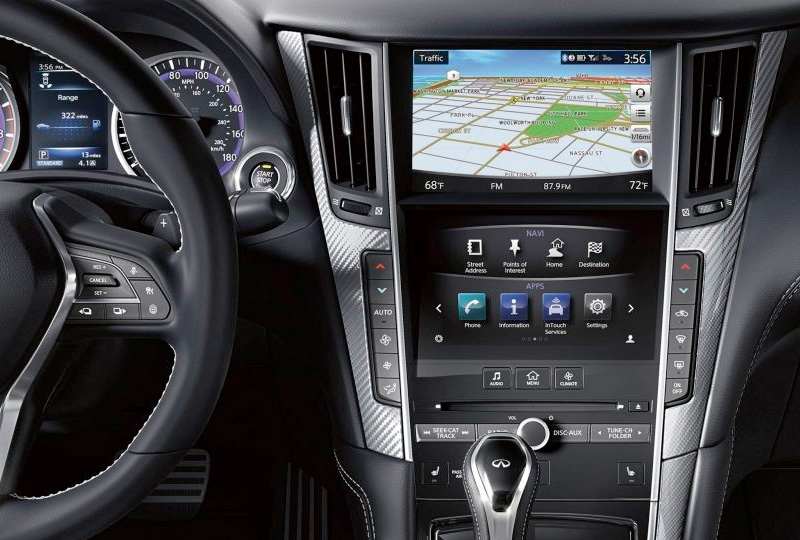 Device Compatibility
See if your device and vehicle are compatible, and get detailed instructions.
1,2,3 Driving is serious business and requires your full attention. Only use features and connected devices when safe and legal to do so. Some features, including automatic crash notification and SOS, are dependent upon the telematics device being in operative condition, its ability to connect to a wireless network, compatible wireless network availability, navigation map data and GPS satellite signal receptions, the absence of which can limit or prevent the ability to reach Customer Care or receive support. GPS mapping may not be detailed in all areas or reflect current road status. Never program GPS while driving. Only use Remote Engine Start and Remote Horn features in accordance with any laws, rules or ordinances in effect in your vehicle's location.
1,2,3 Some services and features are provided by independent companies not within INFINITI's control. Should service provider terminate or restrict service or features, service or features may be suspended or terminated without notice or with no liability to INFINITI or its partners or agents.Services and features may require compatible cellular network provided by independent companies not within INFINITI or its partners' or agents' control. Cellular network signal strength may vary and may not be available in all areas or at all times. Services and features may not function if cellular network is unavailable, restricted, or terminated. INFINITI and its partners or agents are not responsible for associated costs or other third party changes that may be required for continued operation due to cellular network unavailability, restriction, or termination (including equipment replacements/upgrades, if available, or roaming charges on alternative networks). Technology is evolving, and changes by independent companies are not within INFINITI's or its partners' or agents' control.
1,2,3 Enrollment, owner consent, personal identification number (PIN), and subscription agreement may be required to receive full suite of features and services. Trial periods (if applicable) begin on the date of vehicle purchase or lease of a new INFINITI. Trial periods may be subject to change at any time and may be subject to early termination without notice. Required subscriptions may be sold separately for each available feature or service after trial period ends, and may continue until you call service provider to cancel. Installation costs, one-time activation fee, other fees and taxes may apply. Fees and programming subject to change. Feature may be subject to age restrictions in some areas. Subscriptions governed by service provider's subscription agreement, terms and conditions and privacy statements available at service provider's website. Text rates or data usage may apply.
1,2,3 The INFINITI names, logos and slogans are trademarks owned by or licensed to Nissan Motor Co. Ltd. or its North American subsidiaries. Other trademarks and trade names are those of their respective owners.
1,2,3 For important safety information, system limitations, and additional operating and feature information, see dealer, owner's manual, or www.InfinitiUSA.com/intouch/important-information.
2 Amazon, Alexa and all related logos are trademarks of Amazon.com, Inc. or its affiliates