INFINITI Mobility Assist in Fort Lauderdale, FL, Serving Pembroke Pines, Hollywood, & Hialeah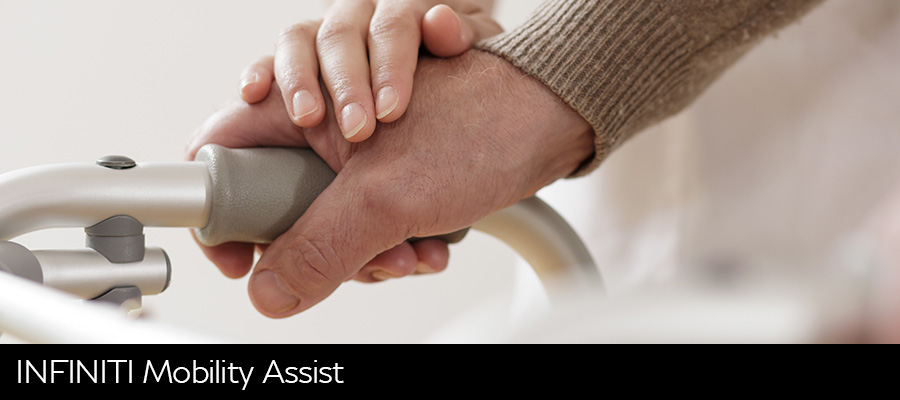 INFINITI Mobility Assist in Fort Lauderdale, FL, Serving Pembroke Pines, Hollywood, & Hialeah
With INFINITI Mobility Assist, available from Lauderdale INFINITI in Fort Lauderdale, FL ‐ serving Pembroke Pines, Hollywood, Hialeah, Pompano Beach, Miami, and Coral Springs ‐ receive up to $1,000 in mobility assistance equipment reimbursements.
The INFINITI Mobility Assist reimbursement is the result of our commitment to an inclusive driving experience for each of our customers. If eligible, you can receive up to $1,000 in reimbursements for the purchase and installation of certain mobility assistance products. The initiative is valid toward new INFINITI models that have been purchased or leased through a participating INFINITI retailer.
After the vehicle purchase, eligible customers must have qualifying adaptive equipment installed by an NHTSA or NMEDA-registered installer within six months of initial ownership. Drivers must also complete the online INFINITI Mobility Form and submit applicable documentation within 90 days of equipment installation. Acceptable documentation includes:
Vehicle sale or purchase agreement
Copy of invoice from NHTSA or NMEDA-registered installer
Proof of customer payment (receipt) for equipment/installation
Medical documentation as described in the program rules
Lessor written approval (if applicable)
Medical insurance statement (if applicable)
Upon completing the necessary procedural steps, eligible customers will receive their mobility assistance reimbursement.
Eligible vehicles must have been leased or purchased from a participating INFINITI retailer after 1/3/2014 and only vehicles sold, registered, and operated in the U.S. are qualified. Customers must note that the reimbursement total may not be applied toward the purchase or lease of the vehicle and the installed adaptive equipment must prove medically necessary for the driver to operate the vehicle or transport passengers with documented physical disabilities. For a complete list of program rules and additional information, visit INFINITImobilityassist.com.
INFINITI Finance
855-878-8045
900 E Sunrise Blvd
Fort Lauderdale, FL 33304
Hours
Monday-Thursday: 9:00 am to 8:00 pm
Saturday: 9:00 am to 6:00 pm
Sunday: 12:00 pm to 5:00 pm