INFINITI Battery Testing & Replacement in Fort Lauderdale, FL, Serving Pembroke Pines, Hollywood, & Hialeah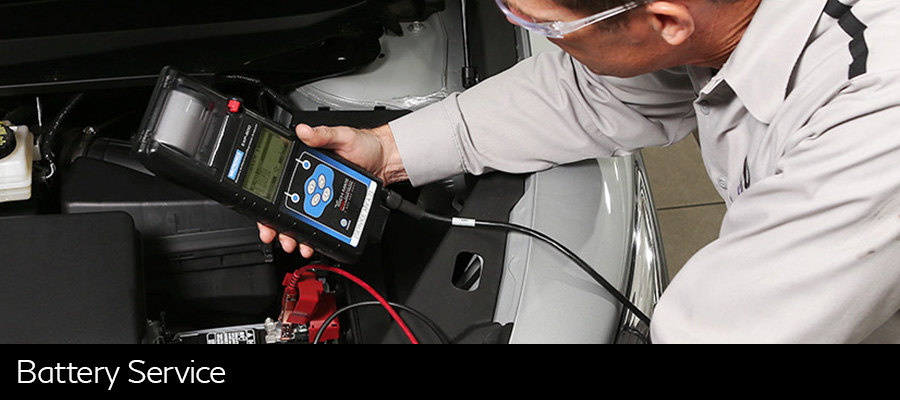 INFINITI Battery Testing & Replacement in Fort Lauderdale, FL, Serving Pembroke Pines, Hollywood, & Hialeah
Visit the Lauderdale INFINITI Service Center in Fort Lauderdale, FL ‐ serving Pembroke Pines, Hollywood, Hialeah, Pompano Beach, Miami, and Coral Springs ‐ for battery inspections and replacement and save yourself from future roadside issues.
The worst time to find yourself thinking about your car's battery is when you're searching for your jumper cables. Before you reach that point, it's important to recognize the most common signals of battery failure.
Stalled engine starts, a clicking noise as you turn the key, and dimmed headlights and interior electronics are all likely signs that your battery needs attention. Factors like extreme temperatures, regular short-distance driving, and blown or missing fuses are also common causes of battery deterioration.
When you bring in your vehicle, our highly trained technicians will be able to assess the battery to determine if it needs replacement or not. Complimentary battery tests are also included with every Express Service, with generated results in less than one minute. If you do need a new INFINITI battery, your model will be outfitted with its ideal match, ensuring long-lasting performance that will achieve every time you activate the ignition.
Lauderdale INFINITI Service
855-460-1643
900 E Sunrise Blvd
Fort Lauderdale, FL 33304
Hours
Monday – Friday: 7:30 am – 6:00 pm
Saturday: 8:00 am – 3:00 pm
Sunday: Closed